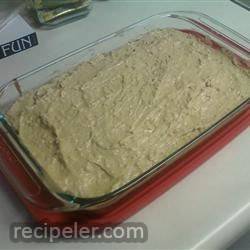 Ingredients
Directions
Preheat oven to 350 degrees F (175 degrees C). Lightly grease one 9x13 inch cake pan.
Mix together the flour and the white sugar.
In a saucepan combine the Dr. Pepper, cocoa, and 1 cup of the butter or margarine, bring to a boil. Pour melted butter mixture over the flour and mix well. Stir in the beaten eggs, baking soda, vanilla, buttermilk and miniature marshmallows and mix well. Pour batter into the prepared pan.
Bake at 350 degrees F (175 degrees C) for 30 to 35 minutes. Remove from oven and spread peanut butter topping over warm cake. Place frosted cake under broiler, about 4 inches from the heat source. Broil for just a few seconds, or until topping starts to bubble. Do not scorch. Let cake cool at least 30 minutes before serving.
To Make Peanut Butter Topping: Cream together the remaining 6 tablespoons butter, the brown sugar, and the peanut butter. Add the milk and stir well. Mix in the nuts. Spread topping over still warm cake.
5
average vote /
1
people vote.
You may also like
Add Review