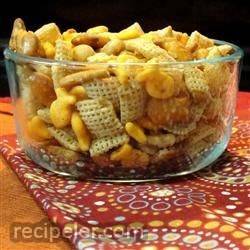 Ingredients
Directions
Preheat an oven to 225 degrees F (110 degrees C). Combine the wheat cereal, corn cereal, rice cereal, oat cereal, cheese-flavored crackers, pretzels, and mixed nuts in a large bowl; set aside.
Melt the butter in a saucepan over medium heat. Whisk in the garlic powder and Worcestershire sauce until evenly blended. Pour over the cereal mixture, and gently stir until the cereal is evenly coated with the seasoned butter. Spread the cereal mixture onto baking sheets.
Bake in the preheated oven for 1 hour, stirring every 15 minutes. Allow to cool to room temperature before storing in an airtight container.
No Ratings Yet
You may also like
Add Review