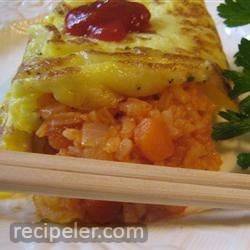 Ingredients
Directions
Combine the rice and water in a small saucepan. Bring to a boil, then cover, reduce heat to low, and simmer for 15 to 20 minutes, until tender.
Melt one tablespoon of butter in a large skillet over medium heat. Add carrots and onion. Cook, stirring frequently until onions are tender and lightly browned, about 5 minutes. Add the cooked rice, and stir to blend well. Mix in the remaining butter. Reduce heat to medium-low, and stir in ketchup. Simmer for about 5 minutes to blend flavors, then remove from heat.
In a small bowl, whisk together the eggs and milk. Heat a nonstick skillet over medium heat. Pour half of the egg mixture into the skillet. Cook until firm, turning over once halfway through. Remove from the skillet and cut in half. Repeat with the remaining eggs.
For each serving, place a scoop of rice onto a plate, and form into a flattened log shape. Top with one of the egg halves. Ketchup, salt and pepper may be added on top of the eggs at the table.
No Ratings Yet
You may also like
Add Review