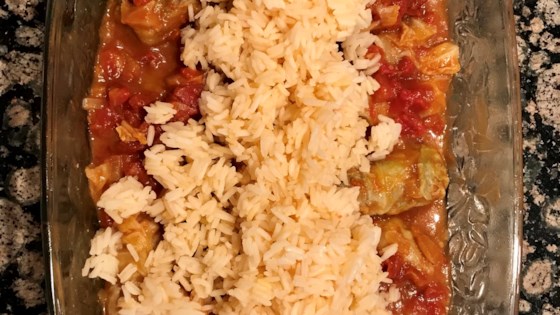 Prep Time: 2 h
Calories: 373 kcal
Print
Categories / World Cuisine / European / Eastern European / Polish
Ingredients
Directions
Core cabbage from the bottom, being careful not to split the head, to keep leaves whole.
Fill a large pot halfway with water and bring to a boil. Carefully submerge the cored cabbage into the water, cover, and boil for 8 minutes.
Carefully remove cabbage from water. Use tongs and a spatula to gently separate outer leaves and lay them on a clean plate. Continue removing leaves; when leaves resist removal, return cabbage head to boiling water. Cook another 6 to 8 minutes. Repeat procedure until leaves are less than 4 inches in size. Chop remaining cabbage and set aside. Drain water from the pot and return it to the stove.
Add butter to the pot and heat over medium heat. Add onion and cook until translucent, 3 to 5 minutes. Add ketchup, vinegar, garlic, Worcestershire sauce, thyme, marjoram, onion powder, and salt. Bring to a light boil, about 3 minutes. Add diced tomatoes. Cover and simmer sauce until needed.
Combine ground beef, 1 cup cooked white rice, eggs, black pepper, and garlic powder in a bowl. Use hands to mix filling well.
Place a rack inside a multi-functional pressure cooker (such as Instant Pot(R)). Add 1 cup water.
Meanwhile, assemble cabbage rolls on a clean cutting board. Lay 1 cabbage leave with stem facing you and outer surface of leaf facing down. For larger leaves, place 2 tablespoons meat filling on the leaf. Roll up to center first, tuck in left and right sides, and continue rolling to completely enclose filling. Place rolls, seam-side down, in a single layer on the rack in the Instant Pot(R). Cover layer with 1/2 to 1 cup of sauce. Create another layer of rolls and cover with sauce. Repeat to within 1 inch of the top of the Instant Pot(R); if you have excess rolls, cook another batch separately.
Close and lock the lid. Set the vent to sealing and select high pressure according to manufacturer's instructions; set timer for 18 minutes. Allow 10 to 15 minutes for pressure to build.
Release pressure using the natural-release method according to manufacturer's instructions for 15 minutes. Release remaining pressure carefully using the quick-release method according to manufacturer's instructions, about 5 minutes. Unlock and remove the lid.
Carefully remove rolls from the pot using tongs and transfer to a casserole dish. Cover with aluminum foil. Remove wire rack from pot. Turn Instant Pot(R) to saute mode.
Stir cornstarch and water together in a bowl. Stir mixture into the sauce using a spatula; keep stirring until sauce has thickened, 5 to 7 minutes. Pour sauce over rolls in the casserole dish and serve hot.
No Ratings Yet
You may also like
Add Review