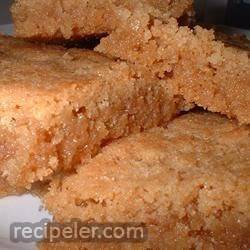 Categories / Desserts / Cookies / Peanut Butter Cookies
Ingredients
Directions
Preheat oven to 350 degrees F (175 degrees C). Coat a 13 x 9 x 2 inch pan with nonstick cooking spray.
Stir together flour, baking powder, and salt in small bowl. Beat together sugars, 1/2 cup butter and peanut butter in a large bowl with electric mixer until smooth. Add eggs one at a time, beating well after each addition. Beat in vanilla. Stir in flour mixture to blend. Fold in chopped nuts.
Pour batter into prepared pan. Press the peanut butter cups lightly into the batter.
Bake at 350 for 20-25 minutes. Cool in pan.
To Make Topping: Melt chocolate and 1/2 cup butter in a small bowl in the microwave in 30 second intervals, stirring after each interval, until smooth. Drizzle the chocolate in pan. Cut into bars.
5
average vote /
2
people vote.
You may also like
Add Review