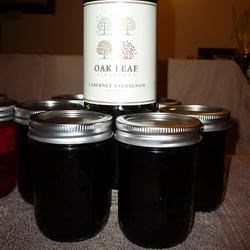 Prep Time: 4 h 30 m
Calories: 107 kcal
Print
Categories / Side Dish / Sauces And Condiments / Canning And Preserving / Jams And Jellies
Ingredients
Directions
Pour the port into a large saucepan, and sprinkle in the pectin. Bring to a boil over high heat, stirring frequently. Once boiling, pour in the sugar, and stir until dissolved. Return the mixture to a boil, and stir in the butter until melted. Continue boiling for 1 minute, skimming and discarding any foam the forms on the surface.
Sterilize the jars and lids in boiling water for at least 5 minutes. Pour the jelly into the hot, sterilized jars, filling the jars to within 1/2 inch of the top. Wipe the rims of the jars with a moist paper towel to remove any food residue. Top with lids, and screw on rings.
Place a rack in the bottom of a large stockpot and fill halfway with water. Bring to a boil over high heat, then carefully lower the jars into the pot using a holder. Leave a 2 inch space between the jars. Pour in more boiling water if necessary until the water level is at least 1 inch above the tops of the jars. Bring the water to a full boil, cover the pot, and process for 10 minutes.
Remove the jars from the stockpot and place onto a cloth-covered or wood surface, several inches apart, until cool. Once cool, press the top of each lid with a finger, ensuring that the seal is tight (lid does not move up or down at all). Store in a cool, dark area.
No Ratings Yet
You may also like
Add Review