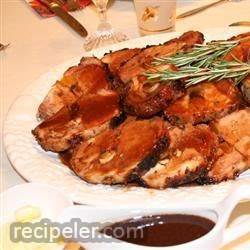 Categories / Main Dish / Roasts
Ingredients
Directions
Adjust oven rack to upper-middle position and heat oven to 250 degrees. Heat oil in a small skillet over medium-low heat. Add whole garlic cloves and cook, stirring occasionally, until soft and golden, about 5 minutes. Remove with a slotted spoon; reserve oil.
Turn pork loin fat-side down. Slit lengthwise, almost but not quite all the way through, to form a long pocket, leaving a 1/2-inch border of unslit meat at each end. Brush cavity with some of the reserved garlic cooking oil, and sprinkle generously with salt and pepper and 1 Tb. of the rosemary. Line cavity with sauteed garlic and apricots; sprinkle in cranberries. Tie loin together with kitchen twine or heavy-duty string at 1 1/2-inch intervals.
Brush with remaining oil, and sprinkle generously with salt and pepper. Set roast, fat-side up, diagonally or curved (so it fits) on a large, lipped cookie sheet or jellyroll pan. Warm 1/4 cup apple jelly along with the minced garlic and remaining rosemary. Brush mixture onto meat.
Roast until a meat thermometer stuck into the center registers 125 to 130 degrees. (Start checking at about 1 1/2 hours.) Remove from oven; raise oven temperature to 400 degrees. Brush loin with pan drippings, return to oven, and continue to roast until the loin is golden brown and a meat thermometer stuck into the center registers 145 degrees F (63 degrees C), about 20 minutes longer. For even more attractive coloring, broil until spotty brown, 3 to 5 minutes.
Let roast rest 15 to 20 minutes; transfer to a carving board. Stir juices around pan to loosen brown bits. Pour through a strainer into a small pan, and stir in port, chicken broth and remaining 2 Tbs. of jelly; bring to a simmer. Mix cornstarch with a couple of tablespoons of cold water; whisk into sauce. Simmer until lightly thickened. Slice pork and serve with a little sauce.
No Ratings Yet
You may also like
Add Review