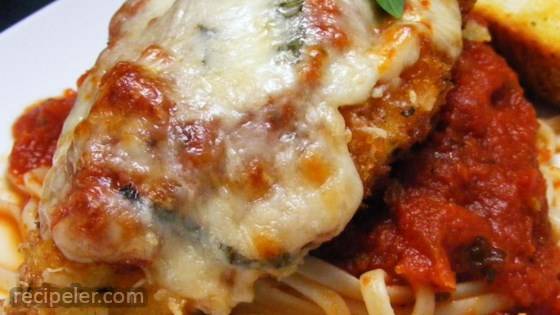 Categories / Main Dish / Chicken / Chicken Parmesan
Ingredients
Directions
In a large saucepan, heat garlic and 2 Tbs. oil over medium-high heat until garlic starts to sizzle. Stir in tomatoes, basil, oregano, sugar, a pinch of salt and a few grinds of pepper. Bring to a simmer; simmer until sauce thickens a bit and flavors meld, 10 to 12 minutes. Cover and keep warm. (Remember, this makes twice the amount of sauce you need, so put aside half for another meal.)
Put chicken pieces between two sheets of plastic wrap and pound, using your fists or a heavy pan, until the cutlets are about 1/4-inch thick.
Bring 2 quarts of salted water to a boil in a large soup kettle.
In a pie pan, beat egg until well-blended. In another pie pan, mix bread crumbs and more black pepper. Preheat broiler.
Working one cutlet at a time, dip both sides of each in beaten egg, then in bread crumbs. Put cutlets on a wire rack set over a cookie sheet (this step helps breading stay put).
Heat remaining 1/4 cup oil over medium-high heat in a 12-inch skillet. When oil starts to shimmer, add cutlets and saute until golden brown on each side, about 5 minutes total. Wash and dry the wire rack and return to cookie sheet. As the cutlets saute, cook pasta in boiling water according to package directions.
Transfer cutlets to clean wire rack over cookie sheet. Top each with a portion of the cheeses. Broil cutlets, 4 to 5 inches from heat source, until cheese melts and is spotty brown.
Drain pasta. Put a cutlet and a portion of pasta on each of 4 plates. Spoon 2 or 3 tablespoons of sauce over part of each cutlet, then sauce the pasta as desired. Serve with extra Parmesan.
No Ratings Yet
You may also like
Add Review