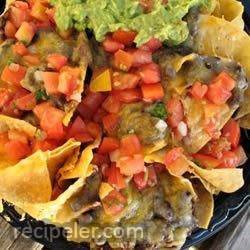 Ingredients
Directions
Preheat oven to 350 degrees F (175 degrees C). Lightly grease a 9x9 inch baking dish.
Place the chicken on a microwave-safe plate, cover with a paper towel, and place in a microwave oven. Cook on high power until the chicken is no longer pink and cooked through, about 10 minutes. Cool, and use a knife to shred the chicken. Set aside.
Place the refried beans in a saucepan over medium heat. Stir until thoroughly heated.
Layer half the chips, 1/2 cup cheese, and green onions on the bottom of prepared baking dish. Spoon the refried beans over the chip mixture. Sprinkle with another 1/2 cup cheese, and spread with the sour cream. Arrange the shredded chicken over the sour cream layer. Top with the remaining chips and 1/2 cup cheese.
Bake in preheated oven until the cheese melts throughout, 15 to 18 minutes.
No Ratings Yet
You may also like
Add Review