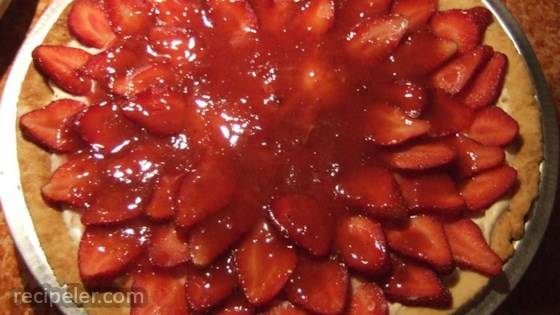 Categories / Desserts / Pies / Fruit Pies / Strawberry Pie
Ingredients
Directions
Combine flour and salt in medium bowl. Cut in shortening and butter until all the flour is blended to form pea-sized crumbs. Sprinkle with water one tablespoon at a time. Toss lightly with a fork until dough forms a ball. Chill dough 15 to 30 minutes.
Roll dough between two sheets of wax paper into an 11 inch circle. Remove top sheet of wax paper and lay into 9 inch pie pan. Prick bottom and sides of pie shell thoroughly to prevent shrinkage.
Bake at 425 degrees F (220 degrees C) for 10 to 15 minutes or until lightly browned. Cool to room temperature.
Combine cream cheese and confectioner 's sugar in medium bowl. Beat with electric mixer at medium speed until smooth. Beat in vanilla and almond extracts. Fold in whipped cream and almonds by hand until well mixed. Pour into cooled crust. Refrigerate until firm.
Decorate pie with strawberries fully or just around the edge. Heat jelly in microwave oven just until soft and brush carefully over strawberries until glazed. Refrigerate until serving.
No Ratings Yet
You may also like
Add Review