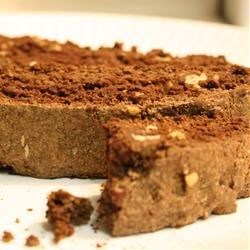 Categories / Desserts / Cookies / Chocolate Cookies
Ingredients
Directions
Preheat the oven to 350 degrees F (180 degrees C).
In a large bowl, combine all the ingredients except the almonds; mix well with a spoon. Stir in the almonds until well blended; the dough will be thick and sticky.
Place half of the dough on a 10 x 15 inch rimmed cookie sheet that has been coated with nonstick baking spray. Form a slightly rounded 4 x 12 inch loaf that is about 3/4 inch thick. Repeat with the remaining dough on a second cookie sheet and bake for 30 minutes.
Remove from the oven and reduce the temperature to 325 degrees F (170 degrees C). Allow the loaves to cool for 20 to 25 minutes, then cut into 1/2 inch thick slices. Lay the slices cut side down on the cookie sheets and bake for 15 more minutes. Turn the cookies over and bake another 15 minutes or until very crisp. Allow to cool, then store in an airtight container. Will keep several weeks.
5
average vote /
2
people vote.
You may also like
Add Review