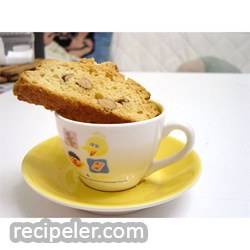 Ingredients
Directions
Preheat oven to 375 degrees F (190 degrees C). Lightly grease baking sheet.
Combine flour and baking powder; set aside. In a large bowl, cream together butter and sugar until light and fluffy. Beat in the eggs one at a time, then stir in the lemon zest and almond extract. Stir in the flour mixture until smooth, then stir in the chopped almonds.
Divide dough in two. Shape each portion into a loaf about 12 inches long and 2 inches wide. Place loaves onto the cookie sheet about 4 inches apart, and flatten slightly. Beat egg white until foamy, and brush over tops of loaves.
Bake 20 to 25 minutes, or until light brown. Cool on baking sheet for about an hour.
Preheat oven to 325 degrees F (165 degrees C). Cut baked loaves diagonally into 1/2 inch thick slices. Lay slices cut side down on the baking sheet.
Bake 10 minutes, or until crisp. Cool on wire rack. Make several days before serving. Store in a paper bag to soften slightly. For longer storage place in a sealed container.
No Ratings Yet
You may also like
Add Review