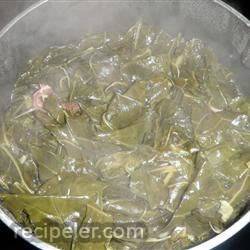 Categories / Side Dish / Vegetables / Greens
Ingredients
Directions
Place the pork, water and salt in a medium size pot. Bring to a boil over medium high heat. Skim off any fat that rises to the top. Reduce temperature to low and let simmer for 30 minutes.
Meanwhile, prepare greens. Discard damaged or yellow parts of leaves. Cut away the tough ends from each leaf. Place greens in a colander, and wash thoroughly until rinse water is clear of dirt. Fold each leaf in half at its center vein, fold over once or twice more, then cut in half.
Stir prepared greens into the simmering liquid. Let simmer all together for approximately 1 hour over low heat. Ladle into shallow bowls, and add sugar and cider vinegar to each bowl. Serve.
No Ratings Yet
You may also like
Add Review