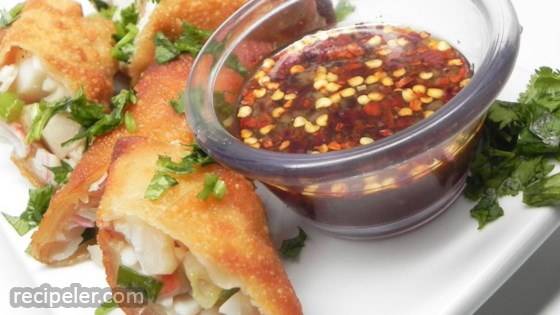 Categories / Appetizers And Snacks / Wraps And Rolls / Egg Rolls
Ingredients
Directions
Place an egg-roll wrapper on a work surface. Center 3 Tbs. crabmeat on the wrapper, forming it into a log. Fold the corner closest to you tightly over the filling, then overlap right and left corners. Then, as if forming a cigarette, roll wrapper tightly, moistening the end with wet fingertips. Press to seal. Repeat with remaining wrappers and crab.
Heat oil in a Dutch oven to 300 degrees. Cook rolls, 5 at a time, turning once, until blond, about 2 minutes. Drain, cool and refrigerate in a zipper-lock bag. (Can be prepared to this point up to 3 days ahead.) Reserve oil.
Several hours before serving, mix dipping sauce ingredients together. Heat oven to 200 degrees. Reheat oil to 375 degrees in Dutch oven. Cook rolls again, 5 at a time, turning once, until crisp and golden brown, about 2 minutes. Drain on a rack set over a lipped cookie sheet and place in warm oven; can be held up to 20 minutes.
Cut each roll into thirds, sprinkle with cilantro and serve with dipping sauce.
No Ratings Yet
You may also like
Add Review