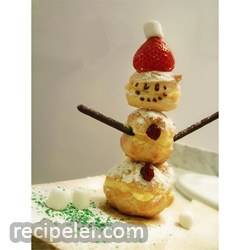 Ingredients
Directions
Preheat oven to 400 degrees F (200 degrees C). Grease a 9x13 inch baking dish.
In a medium saucepan over medium heat melt butter in water until bubbly. Dump in flour all at once and stir vigorously until mixture forms a ball. Remove from heat and let stand 5 minutes. Beat in eggs, one at a time, until smooth and glossy. Spread in prepared pan.
Bake in preheated oven 30 to 35 minutes, until puffy and golden. Let cool completely on wire rack.
While puff is cooling, beat together cream cheese, milk and pudding mix. Spread over cooled puff. Chill 20 minutes.
Spread whipped topping over chilled filling and drizzle with chocolate and caramel sauces. Sprinkle with almonds. Freeze 1 hour before serving.
No Ratings Yet
You may also like
Add Review