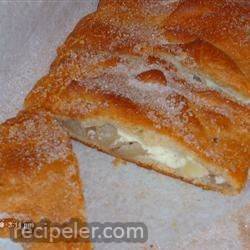 Ingredients
Directions
Preheat the oven to 350 degrees F (175 degrees C). Mix together the cinnamon and 1/4 cup sugar in a cup or small bowl, sprinkle about 1 tablespoon of this mixture over the apples, and set aside.
In a medium bowl, mix together 1/3 cup of sugar with cream cheese until smooth. Beat in the egg until light and fluffy, and then stir in vanilla. Set aside.
Unroll the crescent roll dough, and place the pieces side by side on a large cookie sheet. Pinch seams together to form one big sheet. Place the apples lengthwise down the center. Use scissors to snip the edges into a fringe with strips about 1 inch wide. Pour the cream cheese filling over the apples, and bring the strips from the side up over the apples in an alternating fashion to cover the filling. Pinch ends closed.
Bake for 35 minutes in the preheated oven, or until golden brown. While still hot, brush the top with butter, and sprinkle the remaining cinnamon sugar over the top.
5
average vote /
1
people vote.
You may also like
Add Review