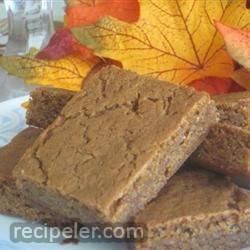 Ingredients
Directions
Preheat oven to 350 degrees F (175 degrees C). Grease a 9x13-inch baking pan.
Mash the brown sugar, butter, and molasses together in a bowl with a spoon until the mixture is creamy and thoroughly combined. Mix in the ginger, eggs, and vanilla extract. In a separate bowl, combine the all-purpose flour, whole wheat flour, baking powder, baking soda, and salt. Stir 1/4 of flour mixture into the butter mixture at a time, incorporating each addition before adding the next. Pour the batter into the prepared baking pan.
Bake in the preheated oven until a toothpick inserted into the center comes out clean, 25 to 30 minutes. Let cool before cutting.
No Ratings Yet
You may also like
Add Review