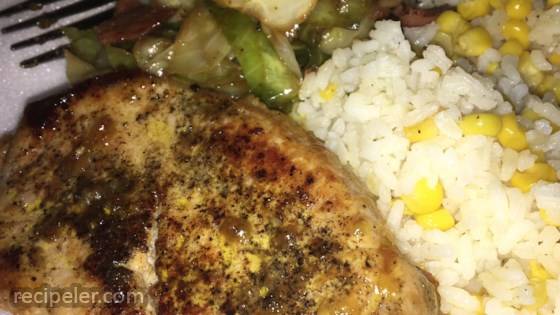 Categories / Main Dish / Pork / Pork Chops
Ingredients
Directions
In a small bowl, combine the ground black pepper, cayenne pepper, garlic powder, paprika, brown sugar and chili powder. Mix well and rub thoroughly over the pork chops. Cover the meat and refrigerate for 24 hours, taking meat out at least 30 to 45 minutes before grilling.
Prepare an outdoor grill for high heat and lightly oil grate.
Meanwhile, in a small bowl, combine the yellow mustard, horseradish mustard, brown mustard, horseradish and brown sugar. Mix well. Place the honey in a separate small bowl.
Then, continue to grill over medium high heat, turning and basting every 10 minutes with the mustard sauce, for 45 to 50 minutes, or until internal temperature reaches 145 degrees F (63 degrees C). During the last 15 minutes of cooking, start basting with the honey, turning as needed. This will give the chops a nice, sweet coating, sealing in the flavors of the mustard baste.
No Ratings Yet
You may also like
Add Review