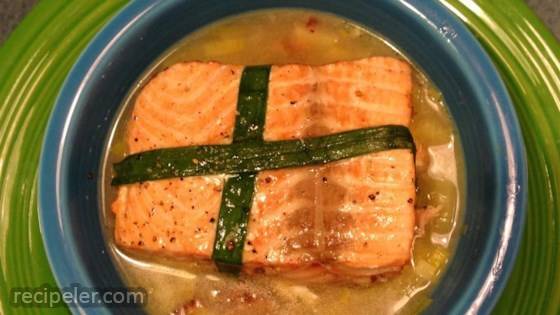 Prep Time: 1 h 5 m
Calories: 444 kcal
Print
Categories / Seafood / Fish / Salmon
Ingredients
Directions
Bring a large pot of lightly salted water to a boil. Add 8 green onions and cook uncovered until slightly softened, about 30 seconds. Immediately immerse in ice water for several minutes until cold to stop the cooking process. Once the onions are cold, drain well, and set aside.
Cook bacon in a large skillet over medium-low heat until browned, about 8 minutes. Stir in garlic, leek, salt, and butter; cook and stir until leek is softened, about 10 minutes. Add potatoes and enough water to cover, about 3 cups. Season with salt and cayenne pepper. Bring to a simmer, reduce heat to low and cook until potatoes are tender, about 15 minutes. Set aside.
Preheat oven to 375 degrees F (190 degrees C). Line a baking dish with parchment paper lightly coated with vegetable oil.
Prepare each salmon filet salmon by cutting the belly, the bottom 1/3 of the fillet, off the skin. Cut remaining 2/3 of fillet away from skin. Cut this piece in half. Cut belly in half horizontally. Spread each piece with tarragon mustard and top with a slice salmon belly. Season with salt and black pepper. Wrap each salmon packet with two green onions, crisscrossing like ribbons, tucking the ends on the underside.
Place salmon packets, belly-side up, on the parchment and drizzle each with vegetable oil.
Bake in the preheated oven until the salmon is slightly firm to the touch and no longer translucent inside, about 15 minutes.
Heat potato leek soup and stir in chopped green onion. Season with salt and black pepper. Serve soup in shallow bowls, topped with 1 salmon packet and garnished with chili paste.
No Ratings Yet
You may also like
Add Review