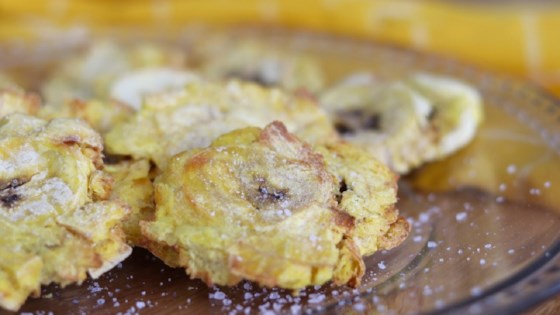 Prep Time: 30 m
Calories: 110 kcal
Print
Categories / Appetizers And Snacks
Ingredients
Directions
Preheat an air fryer to 400 degrees F (200 degrees C).
Slice tips off the plantain. Make a vertical cut in the skin from end to end, making sure to cut only through the thick skin and not into the plantain flesh. Cut plantain, still with the peel, into 1-inch chunks. Peel the skin off each chunk starting at the slit you made.
Place the plantain chunks in your air fryer basket and spray them with olive oil spray. Air fry for 5 minutes. Meanwhile, prepare a bowl of salted water.
Remove the plantain pieces from the air fryer with tongs. Smash to about 1/2-inch thickness using a tostonera (plantain smasher). Soak the smashed tostones in the bowl of salted water while smashing the rest.
Remove the tostones from the salted water and pat dry with a paper towel.
Return tostones to the air fryer in batches, filling the basket with a single layer each time. Spray the tops with olive oil spray and season with salt; air fry for 5 minutes. Flip with tongs and spray the other side with olive oil spray. Season with salt. Air fry until golden brown and crisp, 4 to 5 minutes more.
No Ratings Yet
You may also like
Add Review