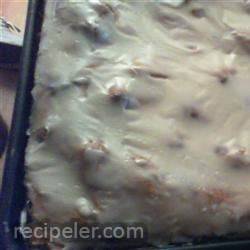 Ingredients
Directions
Preheat oven to 400 degrees F (200 degrees C). In a large bowl, combine 3 cups flour, baking powder and salt. Cut in shortening to the consistency of coarse crumbs. Stir in 1 cup cold milk slowly until completely blended. Separate dough into two balls. Roll out one ball of dough to fit a 15 x 10 inch pan with some dough extending over the edge of the pan.
In a large bowl, combine sliced apples, sugar, cinnamon and 2 tablespoons flour. Place filling in an even layer over prepared crust. Thinly slice 1/2 cup butter and evenly distribute over the apples. Roll out the remaining dough and place over the apple filling. Seal edges and prick the top all over with a fork.
Bake in the preheated oven for 30 minutes. Cool 5 minutes before frosting.
To make the frosting: In a small bowl, combine confectioners' sugar, 3 tablespoons milk, 1/3 cup butter and vanilla extract. Beat until smooth and creamy.
No Ratings Yet
You may also like
Add Review