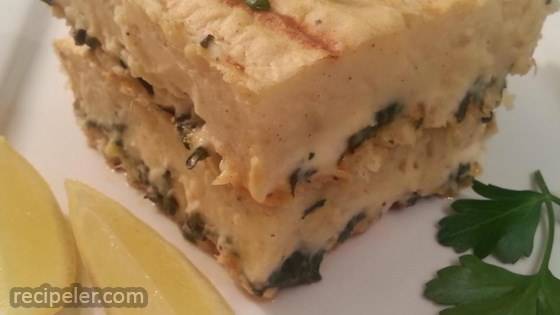 Prep Time: 1 h 35 m
Calories: 421 kcal
Print
Ingredients
Directions
Bring a large saucepan of salted water and to a boil; add russet potatoes to boiling water and cook until very tender, about 20 minutes. Drain well. Mash in 3 tablespoons butter until thoroughly combined. Season with nutmeg, salt, black pepper, and cayenne pepper to taste. Mash 1/2 cup milk into potato mixture until smooth.
Drizzle olive oil in a large Dutch oven over medium-high heat, add spinach, and season with a big pinch of salt. Cook, stirring occasionally, until spinach has wilted, about 1 minute. Transfer to a bowl lined with paper towels to wick away excess moisture.
Heat 3 tablespoons butter and flour in a saucepan over medium heat; whisk mixture to a smooth paste. Cook, stirring constantly, until mixture has a nutty smell and is slightly browned, about 2 minutes. Add chopped garlic; whisk until fragrant, 10 to 20 seconds.
Whisk 1 cup cold milk into flour mixture; cook until thickened. Whisk in remaining 1 cup milk and lemon zest. Bring white sauce to a gentle simmer, whisking constantly; season with salt. Turn heat to very low and keep sauce warm.
Preheat oven to 375 degrees F (190 degrees C). Grease an 8x12-inch casserole dish with 1 tablespoon butter.
Season buttered pan with salt, black pepper, and cayenne pepper. Lay boneless cod fillets into the pan in a single layer. Season tops of fillets with more salt, black pepper, and cayenne pepper. Spread spinach evenly over fish and drizzle with lemon juice. Spoon white sauce over spinach; give casserole dish several taps and shakes to eliminate bubbles.
Drop mashed potatoes by heaping spoonfuls over the casserole and spread smoothly to cover. Place dish onto a rimmed baking sheet to catch spills.
Bake in the preheated oven until bubbling, about 40 minutes. Turn on oven's broiler and broil until potato crust has a golden brown top, about 2 minutes. Fish should flake easily. Let stand 10 minutes before serving. Garnish with a sprinkle of chives.
No Ratings Yet
You may also like
Add Review