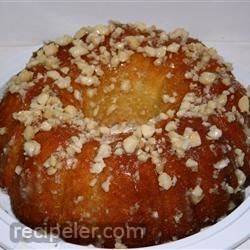 Ingredients
Directions
Preheat oven to 350 degrees F (175 degrees C). Grease and flour a 10 inch tube pan.
In a large bowl, cream together 2 cups sugar and the butter. Fold in the eggs one at a time, fully incorporating each one before adding another.
In separate bowl, mix the flour, baking powder, milk, flaked coconut, and 1 teaspoon coconut extract. Beat into the creamed mixture. Pour the batter into the prepared pan.
Bake 1 hour in the preheated oven, or until a knife inserted in the center comes out clean. Cool on a wire rack for just a few minutes, then place on cake platter.
To make the glaze, mix together in a small saucepan 1 cup sugar, water, 1 teaspoon coconut extract, and walnuts. Boil for 1 minute, and pour over still warm cake.
No Ratings Yet
You may also like
Add Review