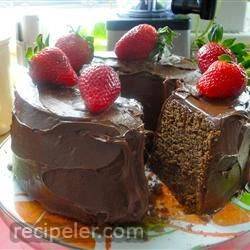 Categories / Desserts / Chocolate
Ingredients
Directions
Preheat oven to 300 degrees F (150 degrees C).
Cream together butter or margarine, shortening, and sugar. Add the eggs, vanilla, and salt mixing batter until light and creamy.
Add 1cup flour and the baking powder to egg butter mixture. Stir until just combined. Then add 1/2 cup milk stirring until combined. Continue alternating flour and milk, ending with flour.
Stir in cocoa and mix well. Place batter in a greased and floured tube pan that has been lined with greased and floured baking parchment paper.
Bake in a preheated 300 degrees F (150 degrees C) oven for 1 hour 30 minutes.
Cool cake in pan for 10 minutes. Then remove cake from its pan and let cool on a wire rack.
2
average vote /
1
people vote.
You may also like
Add Review