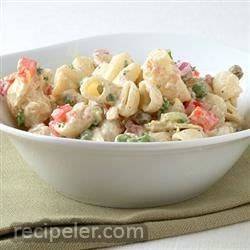 Categories / Salad / Pasta Salad / Vegetarian Pasta Salad
Ingredients
Directions
Cook macaroni pasta in a large pot with boiling salted water until al dente. Rinse with cool water and drain.
In a large bowl add the chopped cucumber, tomatoes, green bell pepper, and onion.
Blend the milk and creamy salad dressing together in a small bowl until smooth and to your liking of thickness.
Add cooled pasta and salad dressing mixture to large bowl of chopped vegetables. Add salt and pepper to taste.
Refrigerate until chilled. Serve.
1
average vote /
1
people vote.
You may also like
Add Review