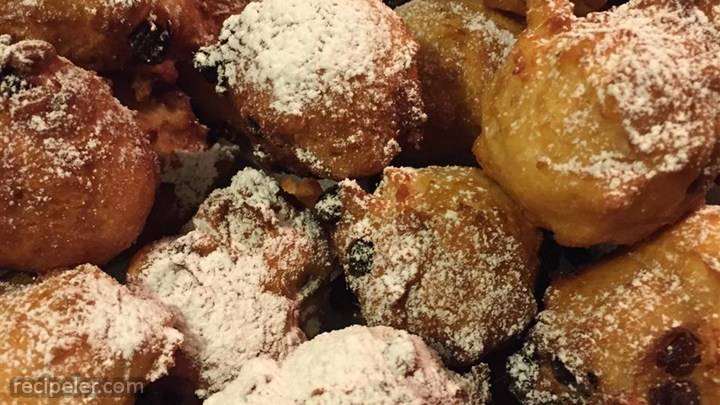 Ingredients
Directions
Break up the compressed yeast, and stir into the warm milk. Let stand for a few minutes to dissolve. Sift the flour and salt into a large bowl. Stir the yeast mixture and egg into the flour and mix into a smooth batter. Stir in the currants, raisins and apple. Cover the bowl, and leave the batter in a warm place to rise until double in size. This will take about 1 hour.
Heat the oil in a deep-fryer, or heavy deep pan to 375 degrees F (190 degrees C). Use 2 metal spoons to shape scoops of dough into balls, and drop them carefully into the hot oil.
Fry the balls until golden brown, about 8 minutes. The doughnuts should be soft and not greasy. If the oil is not hot enough, the outside will be tough and the insides greasy. Drain finished doughnuts on paper towels and dust with confectioners' sugar. Serve them piled on a dish with more confectioners' sugar dusted over them. Eat them hot if possible.
3.5
average vote /
2
people vote.
You may also like
Add Review