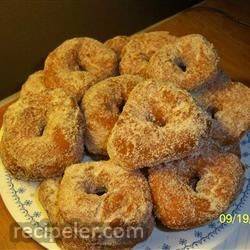 Ingredients
Directions
Place the milk and egg into the pan of your automatic bread machine, and add the butter, flour, sugar, salt, and yeast in that order, with the yeast on top. Select the dough setting, and start the machine.
When the dough cycle is finished, remove the dough to a floured work surface, and knead a few times to collapse all the bubbles. Cut the dough into 16 pieces, cover them with a damp cloth, and allow to rest for 20 minutes.
Stretch each ball out into a disk about 1/4 inch thick, and use a small cutter to cut a hole in the center (I used the top of a salt shaker; a bottle top works good too). Let the doughnuts rise on the floured surface until doubled, 30 to 40 minutes.
Heat oil in a deep-fryer or large saucepan to 350 degrees F (175 degrees C).
Gently place a few doughnuts at a time into the hot oil, and fry until they float to the top and turn golden brown, about 3 minutes. Flip the doughnuts over, and fry on the other side. Remove from the oil, and drain on paper towels.
2.5
average vote /
4
people vote.
You may also like
Add Review