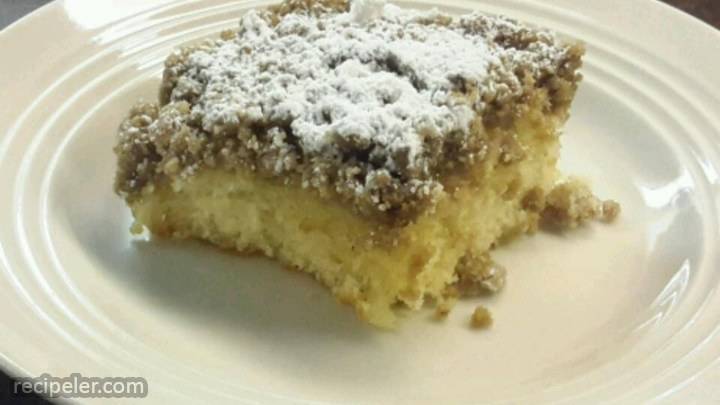 Ingredients
Directions
Preheat oven to 350 degrees F (175 degrees C). Grease a 12x18-inch jellyroll pan.
Beat the yellow cake mix, water, eggs, and 1/2 cup softened butter together with an electric mixer in a mixing bowl until thoroughly blended, about 2 minutes on medium speed. Pour the cake batter into the prepared jellyroll pan.
Bake in the preheated oven until the edges of the cake are light brown but the middle of the cake is still slightly gooey, 15 to 17 minutes.
While the cake is baking, mix together the brown sugar, cinnamon, vanilla extract, butter, and flour together in a large bowl until the mixture forms medium crumbs. Remove the cake from the oven, and press about 3/4 of the crumb topping onto the top of the almost-baked cake. Reserve the remaining topping.
Return the cake to the oven, and bake an additional 10 to 12 minutes, until the crumb topping is firm and the cake is cooked all the way through.
Remove the cake from the oven, and sprinkle with the remaining crumb topping. Let the cake cool to room temperature, and sprinkle with confectioners' sugar.
No Ratings Yet
You may also like
Add Review