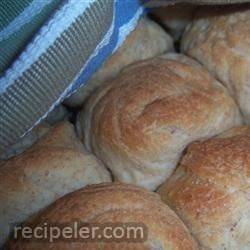 Categories / Bread / Yeast Bread
Ingredients
Directions
Combine 3 cups of the flour, the sugar, salt and yeast in a large bowl. Stir well and set aside.
Combine milk, water and 1/4 coup of the butter in a saucepan and cook over medium heat until butter melts, stirring occasionally. Remove from heat and let mixture cool to 120 to 130 degrees F (49 to 54 degrees C).
Gradually add milk to flour mixture and beat at low speed of an electric mixer for 30 seconds. Then beat for 2 minutes at high speed. Gradually stir in the remaining flour to make a soft dough.
Turn dough out onto a lightly floured surface and knead for about 8 to 10 minutes or until dough is smooth and elastic. Place dough in a well greased bowl, turning to grease top. Cover and let rise in a warm place for about 1 hour and 15 minutes. Punch dough down, cover and let rest for 10 minutes.
Melt remaining 1/4 cup plus 2 tablespoons butter.
Shape dough into 40 balls and dip each one in the melted butter. Place the balls in two greased 9 inch square baking pans. Cover and let rise for 45 minutes.
Bake in a preheated 375 degrees F (190 degrees C) oven for 15 minutes or until rolls are golden. Brush warm rolls with any remaining melted butter.
No Ratings Yet
You may also like
Add Review