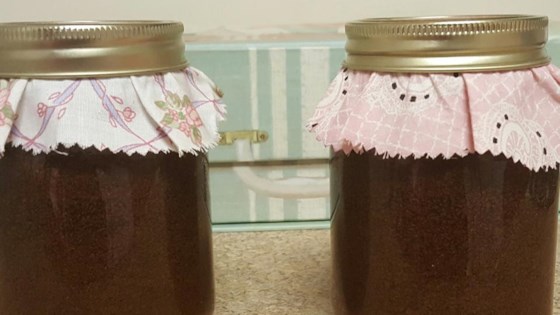 Categories / Desserts / Cakes / Chocolate Cake
Ingredients
Directions
Sterilize 2 (1 pint) straight sided wide mouth canning jars, lids and rings by boiling for 10 minutes. Keep the lids and rings in the hot water until needed. Preheat oven to 325 degrees F (165 degrees C)
In a small bowl, mix flour, sugar, baking soda and cinnamon. Set aside.
In a medium saucepan, combine butter, water and cocoa powder. Heat and stir until butter is melted and mixture is well blended. Pour into a large bowl.
Stir in Flour mixture and blend. Add buttermilk, egg and vanilla and beat by hand until smooth. Stir in nuts.
Distribute evenly into the 2 prepared canning jars. Place the jars on a cookie sheet and bake at 325 degrees F (165 degrees C) for 35 to 40 minutes or until toothpick inserted deep into center of cake comes out clean.
Using heavy oven mitts, remove cakes from oven one at a time. Place a lid, then a ring onto the jars and screw them down tightly. Place the jars on the counter and listen for them to "ping" as they seal. If you miss the "ping", wait until they are completely cool and press on the top of the lid. If it doesn't move at all, it's sealed.
No Ratings Yet
You may also like
Add Review