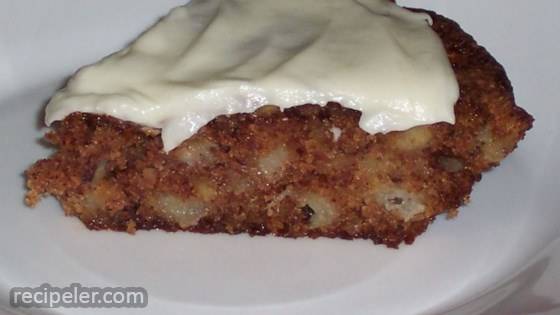 Categories / World Cuisine / European / French
Ingredients
Directions
Preheat oven to 350 degrees F (175 degrees C). Grease a 9-inch pie pan.
Combine 1/4 cup butter, white sugar, egg, salt, cinnamon, nutmeg, soda, flour, nuts, apples, 1 teaspoon vanilla, and hot water in the order given. (Batter will be thick). Pour into pie pan.
Bake for 45 minutes at 350 degrees F (175 degrees C).
Serve with cream cheese frosting. To make frosting: mix cream cheese, 3 tablespoons butter, 1/2 teaspoon vanilla, and sifted confectioners' sugar. Beat until smooth. Can serve hot or warm. Also, can refrigerate and let cream cheese topping set up for a cold dessert.
No Ratings Yet
You may also like
Add Review