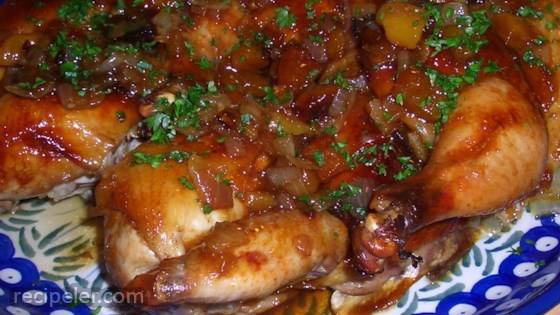 Categories / Main Dish
Ingredients
Directions
Brining the hens before roasting improves their flavor: Dissolve 2 cups of kosher salt in a clean bucket filled with 5 quarts of water. Add prepared hens and soak for 2 hours. Rinse thoroughly; pat dry.
Adjust oven rack to upper middle position, and heat oven to 450 degrees.
Heat oil in a large skillet. Saute onions until softened, about 7 minutes. Stir in apricots, then spread mixture onto a large (about 18-by-12-inch) lipped cookie sheet. Lay hens over the mixture. Mix jam and vinegar, and brush all but a few tablespoons over hens.
Bake hens, brushing 2 or 3 times with remaining jam mixture and accumulated pan juices, until hens are golden brown and juices run clear, about 45 minutes. Turn heat from bake to broil, then cook until hens are spotty brown, watching carefully so they don't burn, 4 to 5 minutes.
Transfer hens to a large platter with tongs, then cut in half at the breastbone to create individual servings.
Return apricot dressing to the oven and broil to evaporate some of the excess liquid, about 5 minutes longer. Stir in pistachios and parsley. Spoon in a mound next to hens.
No Ratings Yet
You may also like
Add Review