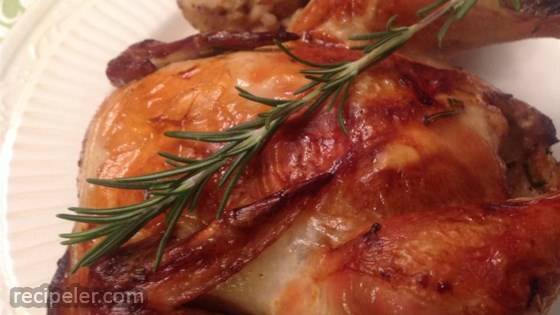 Prep Time: 3 h
Calories: 382 kcal
Print
Categories / Main Dish
Ingredients
Directions
Place game hens in a large bowl; drizzle hens with olive oil and blood orange juice. Sprinkle with chopped rosemary and rosemary sprigs. Add Asian chili paste to hens; season with salt and pepper. Stir chickens in the seasonings and juice to coat. Use your fingers to loosen the skin over the breasts and spread a little of the marinade under the skin.
Refrigerate with breast sides down for 2 hours to marinate.
Preheat outdoor grill (preferably charcoal) for medium heat (one layer of coals). Drain chickens and discard marinade.
Place chickens with breast sides down onto grill and cover with grill lid with the vents open. Cook until breast sides are evenly browned, 7 to 10 minutes. Flip chickens and cook on their backs with cover (vents open) until the juices run clear, hip joints move easily, and meat is no longer pink inside. An instant-read meat thermometer inserted into the thickest part of a thigh reads at least 160 degrees F (70 degrees C), 30 to 35 more minutes.
Close the grill vents on the lid halfway. Flip chickens back onto breasts, close lid, and cook for 2 to 3 more minutes.
No Ratings Yet
You may also like
Add Review