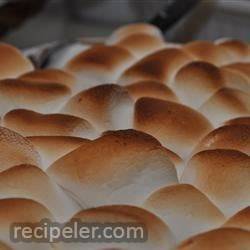 Categories / Side Dish / Vegetables / Sweet Potatoes / Sweet Potatoes With Marshmallows
Ingredients
Directions
Preheat oven to 350 degrees F (175 degrees C).
Place sweet potatoes in a 10x6 inch shallow baking dish and pour orange juice over.
In a small bowl, combine flour, sugar, cinnamon and salt; mix together and cut in margarine. Sprinkle over sweet potatoes.
Bake for 30 minutes. Remove from oven, sprinkle with marshmallows and broil until browned.
2.5
average vote /
4
people vote.
You may also like
Add Review