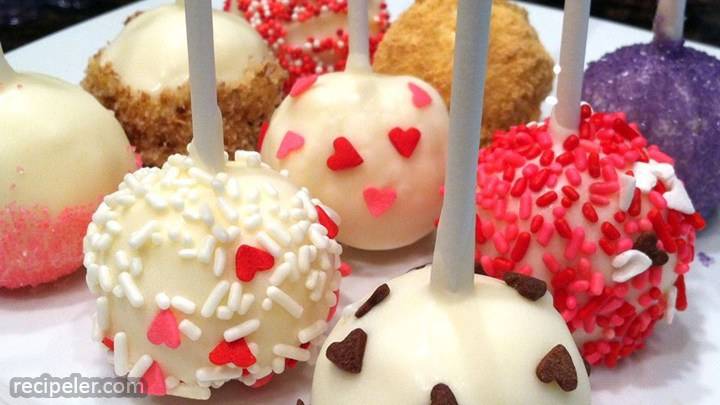 Ingredients
Directions
Preheat oven to 350 degrees F (175 degrees C).
Beat cream cheese and sugar in a large bowl until smooth. Mix in the sour cream and blend thoroughly, scraping down the sides of the bowl. Add the flour, vanilla and salt and mix well. Add the eggs one at a time, blending thoroughly before adding the next egg, but do not overbeat. Pour batter into a 9-inch springform pan.
Bake in the preheated oven for 50 minutes or until the edges of the cake just begin to turn golden. Cool on a wire rack for 1 hour, then refrigerate for 3 hours or overnight.
Use a small cookie scoop to scoop out round balls of cheesecake. Roll them into 1 1/2-inch balls and place on a cookie sheet lined with waxed paper. Push a lollipop stick into each cheesecake ball. Place the tray in the freezer until firm, about 30 minutes.
Melt the white confectioners' coating (or semi-sweet chocolate). Dip each cheesecake pop into the melted coating. Then dip into one of the toppings. Place on waxed paper until coating is set. Refrigerate until ready to serve. Store in refrigerator.
No Ratings Yet
You may also like
Add Review