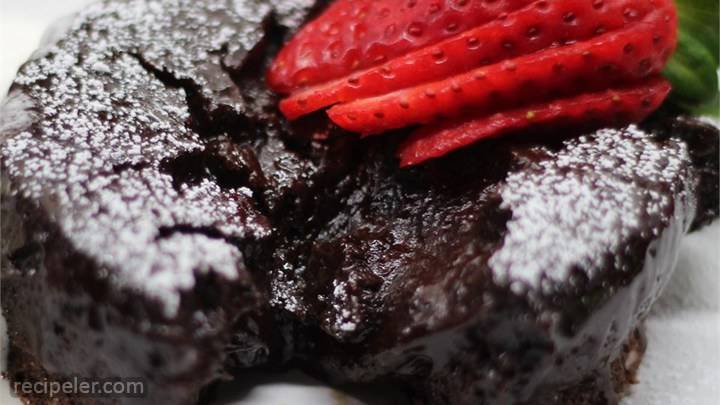 Ingredients
Directions
Generously butter the inside of 4 (5 1/2 ounce) ramekins. Place them in a casserole dish.
Whisk together egg yolks, eggs, and sugar in a bowl until light, foamy, and lemon colored.
Melt chocolate and butter in a microwave-safe bowl in 30-second intervals, stirring after each melting, 1 to 3 minutes.
Stir melted chocolate mixture into egg and sugar mixture until combined.
Sift cocoa powder into the mixture; stir to combine.
Sift flour and salt into the mixture; stir to combine into a batter.
Stir vanilla extract into the batter.
Transfer batter to a resealable plastic bag. Snip one corner of the bag with scissors to create a tip.
Divide batter evenly between the prepared ramekins; tap gently on the counter to remove any air bubbles.
Refrigerate 30 minutes.
Preheat an oven to 425 degrees F (220 degrees C).
Arrange the ramekins in a casserole dish. Pour enough hot tap water into the casserole dish to reach halfway up the sides of the ramekins.
Bake in the preheated over for 15-18 minutes. Set aside to cool for 15 minutes.
Loosen the edges from the ramekin with a knife. Invert each cake onto a plate and dust with powdered sugar.
No Ratings Yet
You may also like
Add Review