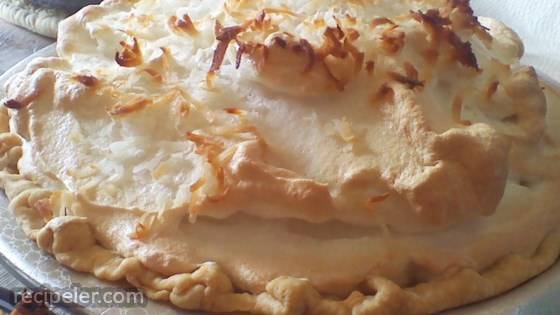 Categories / Desserts / Pies / Custard And Cream Pies / Meringue Pie
Ingredients
Directions
For the filling combine light cream or half and half and butter in saucepan. Bring just to boil over medium heat.
In medium bowl, whisk together sugar, 3 eggs, cornstarch, vanilla and salt until cornstarch is completely dissolved and mixture is well blended.
Gradually add the egg mixture to the mixture in saucepan, stirring constantly with wire whisk. Cook, stirring constantly, about 1 minute or until thickened. Add marshmallows and 1/4 cup of the coconut. Cook and stir until marshmallows melt and mixture is well-blended. Pour into pie shells. Refrigerate at least 2 hours.
Preheat oven to 350 degrees F (175 degrees C).
For meringue, in large bowl, beat egg whites and cream of tartar until soft peaks form. Add sugar, a small amount at a time, beating constantly until stiff peaks form. Spread half the meringue over each pie to edge of crust. Sprinkle each with 1/4 cup of the remaining coconut.
Bake at 350 degrees F (175 degrees C) for 12 to 15 minutes or until lightly browned. Refrigerate until ready to serve. Chill any leftovers.
No Ratings Yet
You may also like
Add Review