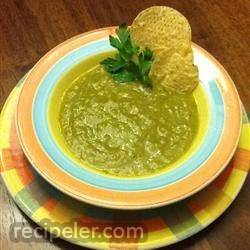 Prep Time: 2 h
Calories: 40 kcal
Print
Categories / Appetizers And Snacks / Spicy
Ingredients
Directions
Bring the tomatillos, garlic cloves, and water to a boil in a small saucepan over high heat. Reduce heat to medium-low, and simmer until the tomatillos have lost their shape, 15 to 20 minutes.
Preheat the oven's broiler and set the oven rack at about 6 inches from the heat source. Line a baking sheet with aluminum foil. Cut the serrano peppers and poblano peppers in half from top to bottom; remove the stem, seeds, and ribs, then place the peppers cut-side-down onto the prepared baking sheet.
Cook under the preheated broiler until about 3/4 of the skin has blackened and blistered, 3 to 5 minutes. Place the blackened peppers into a bowl, and tightly seal with plastic wrap. Allow the peppers to steam for 5 to 7 minutes. Remove and discard the blackened skins. Stir the peppers into the simmering tomatillos; cook 5 minutes more.
Heat the vegetable oil in a skillet over medium heat. Stir in the yellow onion, and cook until the onion has softened and is beginning to turn brown, 7 to 10 minutes. Place the yellow onions into a blender along with the tomatillo mixture. Hold down the lid of the blender with a folded kitchen towel, and carefully start the blender, using a few quick pulses to get the salsa moving before leaving it on to puree. Puree until no large chunks remain. Return to the skillet, and simmer over medium-high heat 5 to 7 minutes until the salsa thickens slightly. Pour into a bowl, and cool to room temperature.
Once cool, stir in the salt, cilantro, red onion, and lime juice to serve.
No Ratings Yet
You may also like
Add Review