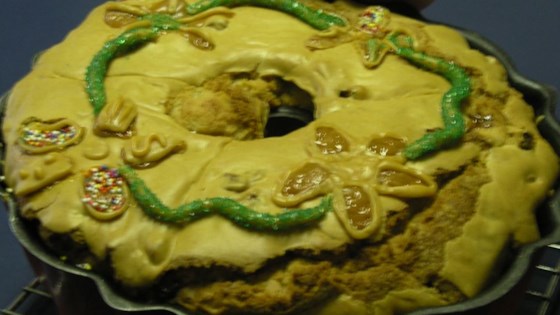 Categories / Desserts / Fruit Desserts / Apple Desserts
Ingredients
Directions
Preheat oven to 325 degrees F (165 degrees C). Grease one 10 inch tube or bundt pan.
Unwrap and cut each caramel into 8 pieces.
In a large mixer bowl cream the butter, confectioners' sugar and vanilla until light and fluffy. Add the eggs, one at a time, beating well after each one.
Gradually add the flour, ground cinnamon and ground allspice to the egg mixture. Blend at low speed until thoroughly combined. By hand stir in the caramel pieces and the chopped apples. Pour the batter into the prepared pan.
Bake at 325 degrees F (165 degrees C) for 85 to 90 minutes or until cake tester comes out clean. Cool upright in pan for 15 minutes before inverting onto a serving platter. Serve cake warm or cool. If desired top slices with ice cream and caramel sauce. Alternately bake in a 9x13 inch cake pan for 75 to 80 minutes.
No Ratings Yet
You may also like
Add Review